The Training
Until now, we have been bombarded with promo photos from season 16. That's why I found it striking that there were no pictures at all of the second half of the eighth episode – neither on Pro7 itself, nor on the Instagram accounts of the contestants or the relevant distributors. The high heels dance training and the subsequent performances simply did not take place in the photographic evaluation. Of course, it is conceivable that Richard Hübner, Pro7's in-house photographer, was indisposed that day. On the other hand, the station has no qualms about generating photos from video camera footage if necessary.
The setting for the High Heels Dance reminded me fatally of Til Schweiger's "Mission Hollywood" from 2009. Back then, young actresses were sought and had to act out scenes from popular erotic films from "9 ½ Weeks" to "Dirty Dancing" every week. More on that elsewhere. So this week on GNTM it was "Flashdance"'s turn, even though this movie was not mentioned by name. After all, the contestants of this season weren't even in the planning stages, let alone born, at the time the movie hit the big screen.
What interests me about GNTM is not so much the setting or the obligatory flesh-show of the young girls, but the dramaturgy – the narrative of the episodes. In the meantime, the casting show has long since developed into a model Big Brother. The girls are followed around the clock by various cameras. Even in the refrigerator, a camera was installed at times; and the fact that an infrared camera in the girls' bedroom provides recordings even when there is no light is, I think, relatively new in this season. So there's material without end, so the 2.5 hr. montage we get to see on Thursday night serves an elaborate dramaturgical structure that I'm trying to track down here.
The high heels dance training is introduced like pretty much everything else in GNTM: Heidi announces that a very special challenge is coming up that day. It's a bit hackneyed, but this build-up of expectation still seems to work. Pictures from the bedroom follow of the models just waking up. Alex, who turns annoyed to the other side when she sees the camera pointed at her; Larissa, who yawns as she picks her proud bust out of the bed sheet; Elisa, who rubs her eyes first and hopes that the camera will disappear again as soon as possible. Then cut to a couple of girls who are already making themselves beautiful in front of the mirror – in front and large in the picture Yasmin, whose bust is well shown off in a black tank top.
Cut to the breakfast counter: Romina smiling with coffee cup in hand, Linda somehow bitter as always and Romy, slumped over, fully occupied with her jam slice, as if she didn't really understand what the camera was doing. As I said, all of these are seconds that are meant to convey a certain image and say little about the people themselves, their character or their attitude. Nevertheless, even with this picture I can't shake the impression that Romina will make it to the finale, while Linda is still there mainly because she causes conflict with her biting comments. And Romy? She's kind of a weird girl next door, an identification figure for all teenagers who dream of a career as a model.
But then the teaching already begins. Five empty chairs stand in a row. It's a bit reminiscent of children's birthday parties and musical chairs. However, it cannot be assumed that the ability to grab a seat when the music is turned off is one of the basic modeling qualities. But who knows. Elisa fades in, razor-sharp, concluding that there's something about these chairs. Thanks for this explanatory aid, Pro7. You have to come up with it first.
Everyone sits expectantly in a circle around these chairs as the door opens. A young woman with long black hair and striking makeup enters the room. It is Sonia Bartuccelli, choreographer from Berlin. I would have expected now that Heidi announces her from offstage as "one of the most important high heels dance choreographers at the moment". But Sonia has to do the praising herself. And so she tells us that she has already worked with David Garrett (doesn't he actually play the violin and dance relatively rarely?), Helene Fischer (doesn't always have to be international) or Cheryl Cole (it works). Now Heidi has to save the day and concludes: "Many stars swear by Sonia's dancing skills." A bit nebulous perhaps, but sounds good.
And then comes the decisive sentence, as an introduction to the following narrative: "And she says that every woman can feel sexy and beautiful in her own body. And that's what Sonia wants to teach my girls today." Without spoiling, I can reveal that Alex and Ana in particular are staged as if they have massive problems with this. It also cuts directly to Alex, who admits in the interview that she's never heard of heels dancing before, and actually can't even get the word across his lips without mistakes. Linda laughs, though wildly cut to it from another scene and certainly not originally aimed at Alex. Why be subtle when you can be crude? One can still claim that a connection was never intended.
In her explanation of the topic, Heidi manages wonderfully without a reference to "Flashdance": "High heels dancing is totally sexy and hip. Many stars have already done it in their music videos. My girls are taking on a challenge here that artists like Beyoncé or Jennifer Lopez have already mastered." And Sonia goes on to explain, "It's about you being able to dance elegantly, sensual and feminine also touching your body, doing the moves really sharp." These explanations are underscored by scenes from various music clips, initially counter-cut with images of Sonia dancing, then increasingly with the girls' reactions, which are somewhere between joyful anticipation and incredulous amazement: Linda laughs up, Mareike gets googly eyes. And behind it all, the question, "We're supposed to do that?"
Again, the interview with Elisa is invoked, who declares on behalf of everyone, "It's not going to be easy, and it's not easy, especially if you've never taken dance lessons somehow." And while Romy's mouth is open, speechless, Romina exclaims, beaming, "Hot. That's hot!" Linda now also has her say, presenting what sounds like a basic course in teen lingo: "When I first saw the choreo, I was like, boah, fuck, I safely can't remember that." Alysha and Mareike also put in their two cents to explain how difficult the task is for them. The gradient is established. It's the old dramaturgical trick: to optimize suspense, the protagonist must doubt he's up to the challenge. Thanks to the editorial composition of the material, pretty much everyone doubts here.
Teaching is divided into groups. Romina, Soulin, Alex and Mareike are first called upon to take hold of the chairs: "You hold the chair. And from the inner attitude you are super sexy, super sensual." Close-up of Mareike practicing "super sexy, super sensual." Then the first movements of the choreography, which lives from the contrasting pair Romina-Soulin and Alex-Mareike. Again a classic dramaturgical rule: illustrate contrasts. On the one hand, we have the self-confident girls Romina and Soulin, who let themselves fall more or less elegantly into the poses; on the other hand, we have Alex, who says she can shake her butt, but not really dance – and Mareike, who called herself a "body clown" in one of the previous episodes and symbolically shot herself in the head in the interview before the teaching.
Of course, Sonia has more surprises in store. There's the matter of the water bucket that the girls have to empty over their heads during the dance. Or better not over the head, but over the bust, because this diminishes the "puddle of water" effect a bit in favor of an erotic overall performance. We will see later that it does not look very erotic when a girl pours a bucket of water into her open mouth. But one after the other.
Sonia states in all seriousness in the interview, "It's going to be hard when deciding, because they're actually going to come into contact with water for the first time." Personally, I find this thesis a bit daring, but involuntarily had to think of Nirvana's "Smells Like Teen Spirit".
How does a young woman react when asked if she feels sexy? Soulin beams, "I feel sexy from top to bottom. I like myself, how I move my body and everything." Luca can only smile mildly at that. And Alex gets a little meek: If she finds anything sexy about herself at all, it's her hair, at most. But not exactly. It doesn't really help that Mareike is supportive: "You're a sex bomb!" The more Sonia probes, the sadder Alex gets. A reach into the mothballs of dramaturgy: evoke strong emotions! Instead of leaving her alone when she is still doing relatively well, Sonia continues to probe. And in the interview, Alex is once again asked what she likes about herself. And again she struggles with tears. That's entertainment, folks!
Another popular stylistic device is humor, largely at the expense of the participants. Next up are Romy, Dasha, Alysha and Larissa. Sonia explains off-camera, "It's super important to see in the face the sensuality too, and the attitude." Dasha is seen in close-up, looking just as sensual as if an excavator had rolled over her foot. Cut to Alysha, whose face shows a mixture of sweet insecurity and amused desperation. You can't help but get the impression that the editors have set their sights on the two of them. A few seconds later, Dasha explains that she has such an erotic look that she uses in such situations. And of course she immediately demonstrates what she means. The fact that Yasmin can be seen in the background, having a great time, should only be mentioned in passing.
Alysha also has such a look, but it looks less like erotic vamp than cute innocence. The editors go one better by having Alysha talk off-camera while she's yawning heartily: "I don't really have a problem with being sexy. The thing is just that it's something different when you – let's say – just have to do that in front of Heidi or when you – let's say – are alone in your room and just do something." In this context, it is not really clear whether she means "alone in one's room" in the sense of one or two people.
The next group also seems to be composed as if two potential finalists were competing against two preliminary opponents. Contrast as a recurring stylistic device: Linda and Liliana next to Elisa and Ashley. Linda is already contorting her face at the first moves shown. And for those who slow down a bit, Sonia explains it again in detail, while alternately Linda and Liliana fade in: "Dance just shows me everything. You see all the insecurities. You see all the blockages. You see what the person is feeling, too." And more pointedly, "Some, of course, have a hard time with the choreography because it's not that easy …" Camera shows Linda and Liliana struggling, then cut to Elisa and Ashley: "… and a few show a bit of talent like that."
Elisa is explicitly praised. The others are advised to follow her lead in practicing. Of course, this again offers potential for conflict. After all, this is a competition in which everyone wants to come out the winner. Cut to Soulin, who is sitting on her chair with her arms folded, her face closed, her mouth pinched. Her bust alone shows a certain arousal. And promptly an interview with Ashley is played: "I just think it's scratching Soulin's ego. She just wants to be the best here. She gives full throttle and power and is always over the top, part of the time. So, I think it does offend her a little bit, yeah." The only telltale I find in this context is the "yes" at the end, which suggests what the interviewer's question will have been. Even if this is not scripted reality, the interview questions are still quite manipulative.
Let's move on to the last group: Luca, Yasmin and Ana. Shot from the side, so Ana is dancing in the foreground. In general some close-ups on Ana, while there are only long shots of the other two. Then a short interview clip in which Ana talks about the pressure she is under. She is very ambitious and always wants to be the best. To contrast this, we cut to Sonia, who asks after the end of the teaching if there are any problems. Ana promptly answers and immediately bursts into tears. She doesn't know exactly where the problems lie: "I just can't do something like that and then I just don't feel comfortable."
Sonia admits: "It's unusual at first to touch yourself and make these movements without feeling weird. But if you practice it and do it more and more, you'll notice: You'll get a little closer to your body, too." This is where it all comes together: Emotion, conflict, and the potential for identification, which Sonia highlights again in the interview, "I think Anna's fear is what a lot of girls and women have: just expressing her femininity. I think she has a problem with that. She thinks that's forbidden." Illustrated by a wonderful editing cut: at the exact moment when Sonia says Ana probably thinks that's forbidden, it cuts to Ana nodding affirmatively – even though she's not there at all for the interview in which the sentence occurs.
So much for teaching. The young women are then shown continuing to practice on their own. Ana is there again, as are Alysha and Liliana. Surprisingly, neither Elisa is leading the training, as Sonia recommended, nor is Alex to be seen, although she promised in advance to support Ana. Instead, Dasha gives the instructions. Dasha explains that she has danced before and also had performances with it. Wicked the cut, in which Dascha explains that she now has to let the girls continue alone, because she has to take care of the pizza in the oven. Small, subtle sideswipes, but they make up the narrative. After all, Dasha is the declared Curvy Model of the season.
The following interviews with Liliana, Ana and Alex underline once again what has already been seen. All three are confident of victory. Ana describes once again in the conversation with Alex that she is more than the sweet girl next door. Alex emphasizes that her distanced relationship to his own body does not only stem from the fact that he is transsexual. Thus, this plot thread would also be taken up once again.
What remains to be told is that the young women are put into very revealing black corsets for their performance. While the nude walk in episode 4 was more of a storm in a teacup, since the participants actually only walked across the catwalk topless, wrapped in foam that adhered well and virtually surrounded by air bubbles at strategic points, they show quite a lot of naked skin in the performance of this episode. An astonishing amount for a format that, compared to the local versions in other countries, often appears strangely uptight for its programming slot on Pro7.
Equally striking is how often Ana, of all people, who told us in an earlier episode that she never looked at herself naked from top to bottom in the mirror, is photographed in potentially embarrassing poses: with her bathrobe open before styling or in her underwear while dressing. Nothing really scandalous, but at least on the ethical borderline. Perhaps this is also part of the narrative of the shy christian girl who is confronted with her own physicality for the first time in this show.
This time, Valentina Sampaio, who can boast of being the first transgender model to make it onto the cover of Vogue, is responsible for the catwalk training. Heidi praises her with that saying with which actually all guests of this show are introduced: "She is one of the most internationally successful …" – in this case – "transgender models." After all, she belongs to the "Victoria Secret" faces and can show the girls how to post sexy and strong, Heidi further explains.
The performances
A large part of the rest of the broadcast time was taken up by the performances and the walks, along with Heidi's pronouncement of the verdict. There is not much to say about this, except that the comments of Heidi and Valentina, and sometimes just their looks, classify and manipulate what the viewer sees. If two such seasoned models think Dasha has done an outstanding job, there must be something to it – even if this is not really obvious from the material shown. This is exactly how the critical comments about Alysha already introduce her expulsion. Dramaturgy at its best.
It was perhaps surprising that Alex's bust size, of all things, was blurred by the director. I don't want to get lost in speculation now about what that's all about. Linda, on the other hand, came off particularly badly in the shots shown under the waterfall: due to the distance and unfavorable lighting, there was hardly anything of her to be seen.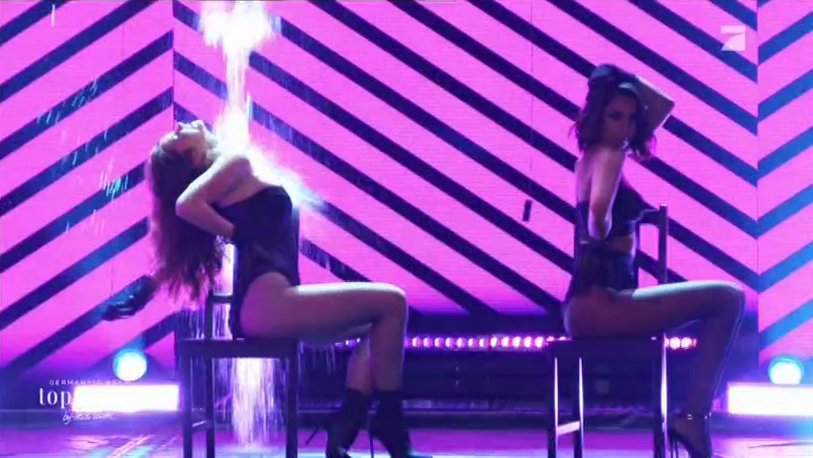 The Walk
The walk would have had what it takes to become the erotic highlight of the show: the young women in their tight corsets, their upper bodies glistening with wetness, their breasts half exposed. What was striking, however, was how the camera kept its distance, moved back, and instead of a close-up, went to the profile of the participants. As already mentioned above, the difference between this and other country versions of the show, some of which are much more permissive with their contestants, was expressed here. The German show oscillates a bit half-heartedly between voyeuristic tasks and their more conservative implementation.
Liliane slid around a bit on the wet catwalk – which looked much more clumsy than it actually was due to the montage of different camera angles – and Ashley actually laid down. Finally, Alysha got the water in her open mouth and nose and impressively acted as a gargoyle before starting her walk. And since things didn't go so well for her this week anyway, there was no photo of Heidi for her this week.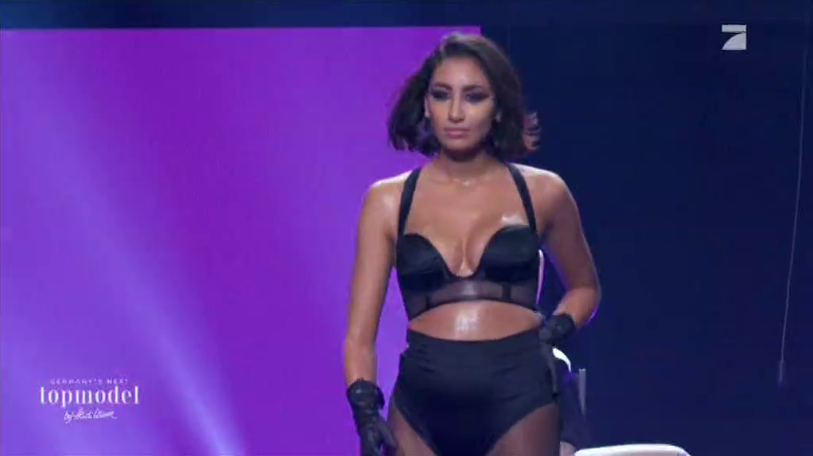 The photos on this page are all screenshots from episode 8, GNTM. Pro7 has not provided any photos of the High Heels Dance itself.