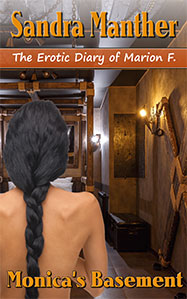 In the meantime, the English translation of my story "Monica's Basement" is also available. In this translation I have revised, expanded and rearranged the original text. I also gave it a new cover, because the old one was not very expressive. The old cover did not make it clear what the story was about at all; it was unattractive and gave no indication of the genre. So the story remained an insider tip for a long time and was really only bought by people who already knew the Marion F. series. I hope you like it in its current version.
Here's what it's about:
Monika sets up a hobby cellar in the basement of her house after her husband left her for a philosophy student. In the basement she collects toys of all kinds and devotes herself to her erotic fantasies.
One evening, as she sits with her friends Sarah and Marion over a cocktail, the three decide to finally go in search of a man with whom Monika can try out her various toys.
Reading sample:
When I first entered Monica's basement, a shiver ran down my spine. She had really made every effort to turn the room into a small dominatrix studio from which a somber mood emanated.
The most striking thing was the large bed with the black mattress. There was no bedding. Only later, Monica explained that this was less a bed than a trap that condemned whoever lay on it to absolute immobility. A large mirror attached to the ceiling allowed the person thus trapped to view himself in all his helplessness.
Chains hung down from the ceiling, seemingly just waiting to tie someone up and fix him in place.
On the wall to the right of the entrance door was a St. Andrew's cross. I tried to imagine myself naked and tied to this cross, arms and legs spread wide. In the next moment, I thought what Monica would do to a man who would be so helplessly tied to it.
Monica was a fan of those Gothic horror stories: The Castle of Otranto, Northanger Abbey, Rebecca and stuff like this. You know: old walls, dark chambers, dark secrets …
When her husband Daniel left her for a philosophy student about five years younger than herself, a certain sadistic streak broke out in her. She set up this playroom in the basement of the house she had knocked out in the divorce, with all the stuff you can buy in relevant stores. And every time she came back from her shopping trips around the red light district with a new utensil, she would go into the basement room and gleefully imagine herself trying out the tool on her ex-husband.
Now we were sitting in front of Le Malve, an Italian bar in Hamburg's bohemian Schanze district. In front of us on the bistro table's granite slab were a Sgroppino, a Gazzera Grillo, and a Caffè Crema. We occasionally took a sip while watching the people walking by. We, that was Monica, Sarah and me. Three friends who had known each other for years and were always up for an adventure.
"I'll never forget the gleam in your eye when you showed us your whip collection," I said.
"You have to admit," Monica replied, "there are some nice pieces among them. Aesthetically, I mean. Just think of the crop with the Swarovski crystals on the handle."
"True enough. Although I still can't imagine what you're going to do with that stuff," Sarah said. "That oversized anal plug you got yourself really scared me."
Monica laughed, and her face assumed a kind of dreamy expression. "How many times have I imagined driving that thing up Daniel's ass."
The images in Monica's head were not directed solely at Daniel. They served as a reckoning with the sex drive of men par excellence. I found this odd but felt like playing along. My own experiences with men were not as harmful as Monica's. But I recognized the erotic potential of such an S&M scene.
That evening we had warmed up a bit at Monica's house bar. And in our slightly alcoholic mood, Monica and I decided that her basement finally had to be put to its intended use.
Diagonally above us, a commuter train rumbled over the bridge at the train station. The August sun had heated up the city but now decided to call it a day and go down leisurely. The people around us wore only the bare necessities on their bodies, just like us. Here, in front of the bar, was the ideal place to enjoy the cooling of the dusk. And to appraise men.
Monica focused on the passers-by. It was her day. We left the choice to her, but that didn't stop us from making our comments as soon as she gave one passer-by a second glance.
[End of reading sample]