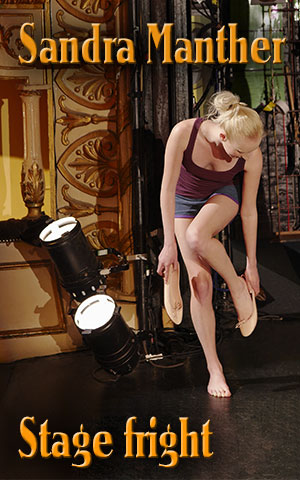 A story that I had in my head for a long time is "Stage Fright". Every time I see a nude scene in cinema or theater, I wonder how the actors felt when they first approached the role.How do they cope with their shame, their insecurity? Because I don't believe that all actors are disguised exhibitionists. But how do they prepare for their role?
Furthermore, more and more is demanded of the actresses.While the 70s were the time of softcore, it has been common practice since "Basic Instinct" at the latest to hold your vagina into the camera as well. Masturbation and nipple play have also become standard in mainstream cinema.
That is what it is all about:
The stage director Ralf Kürtner rehearses the play "Angst" by the Albanian Aleksandër Caliqi. And decides to underline a long, monologue soul striptease of his protagonist with a symbolic dynamic. For Anna, who in any case feels constantly assessed by the looks of men, this is a walk through hell. But she experiences something that is existential for every actor: the more she gives up herself, the more she grows into her role.
Reading sample:
"The scene doesn't work that way. It's too static," Kurtner shouted angrily up to the stage. Anna noticed that she started to sweat. Two years of auditions, rejections, small supporting roles, new rejections. Now her first chance to really attract attention: a leading role in "Angst," the current play by the Albanian Aleksandër Caliqi. She looked at Kurtner, who walked up and down in front of the stage with a wrinkled forehead. A few actors were sitting in the rows. Sandra, her second cast, watched Anna's failure with a hardly noticeable smile.
Unpleasantly touched, Anna noticed Sandra's thin, light blue top, which made the tips of her breasts stand out unequivocally. "Sandra would also sleep with a director if it helped her career," she thought.
For a moment, she tried to imagine how this top would look at herself. How her own breasts would be revealed beneath the fabric. She felt how her skin tightened, and goosebumps raised on her arms.
She was extremely modest, perhaps too shy to be really successful.
"Anna," she heard Kurtner say. "Your monologue will take five minutes. You can't expect the audience to hang on your lips for five minutes without doing more than going from left to right. "
His gaze wandered over the decor, stopped at the kitchen table where Frank was sitting, playing the house friend Pjeter, and went on to the sink, to the window. Finally, he shook his head. Anna noticed that she was hardly breathing.
"We need a parallel action. – Anna, in your monologue, you expose your innermost self to Frank. You tell him things you've never confided to anyone else before." Anna nodded. Of course, she had understood the role. They had talked at length about the psychological development of the character during the rehearsals.
"We should try," Kurtner continued thoughtfully, "to underline this soul striptease with a symbolic dynamic. Anna, I want you to undress while you talk. "
Anna looked at him. Was he serious? Sure, she was longing for a big part. But she had also assumed the role of Marie because there were no embarrassing scenes in it.
"What, please, shall I take off?" She tried hard to appear calm.
"Anna, sweetheart! If you're not willing to give your all, you have no future in the theatre." He hesitated a moment. "I don't know how far you have to go. It depends on how the scene develops now. Just start with bootees and socks, then we'll see. Can we try that?"
Anna wanted to protest, but didn't dare and just nodded insecurely. She tried to concentrate on her role, to imagine that she was Marie, an Albanian woman in the middle of the civil unrest of spring 1997. But her stomach rumbled. She didn't like the idea of undressing bit by bit in front of her colleagues. With every garment she took off, she would show more of her body, a body with which she had always been dissatisfied.
What if Kurtner likes his new idea, and takes it over into the play? If he'd force her to undress every evening, at every performance?