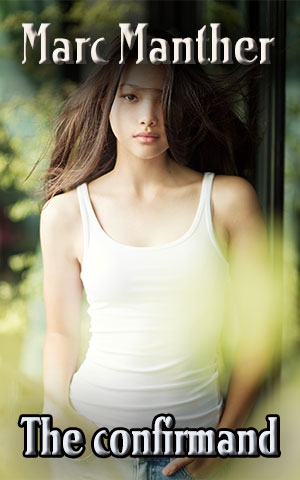 The core of this story comes from a friend with whom we often sit together in the evening and discuss literature. Since he himself doesn't write erotica anymore, he left the story to us and I reworked it and put it into its present form.
Sandra thinks that it fits to me. Less because of the eroticism bordering on pedophilia than because of the desolate view of the institution marriage. Anyway, my wife is convinced that if an August Strindberg Prize for erotic literature is ever awarded, I would definitely make the short list.
That is what it is all about:
She is 15 years old and is well aware of her effect on the opposite sex. Like all teenagers, she tries her limits. She takes the desiring looks of others at her young body as confirmation. With just a few words, she plants images in her pastor's head. She plays with him and shakes up his small, precarious life.
Reading sample:
Pastor Bernd Obbe's eyes always seemed to smile. To give this impression, he had spent a lot of time in front of the mirror. At the age of only 45 years he wanted to face the church members in the role of a benevolent father. The insecurity – in matters of faith and human interaction – which occasionally overcame him, he hid behind a Zen-like outer calm, which shaped both voice and movements.
The parish where he worked belonged to a problem area of the city. Unemployment was high, many lived on social welfare, and the young people had hardly any prospects. So he was quite proud of the group of confirmands that sat here before him. He had welded them together, had taken them off the street, and had given them new self-confidence with painstaking persistence.
During his Bible studies, he had realized that the mind played a decisive role in every believer's life. It was thoughts that directed their lives in a certain direction. And thoughts were the source of the sin that separated people from God. Therefore he had decided to conduct a little experiment with his group.
"Well, please close your eyes for once and try not to think about pink elephants for two minutes!"
Pastor Bernd Obbe observed the confirmands who did what he asked them to do after a short, irritated hesitation. In the refracted light of the July afternoon sun, the group sat frontally opposite him in the bare room.
His eyes fell on Tina with her large, white T-shirt. Her young, firm breasts bulged out from under the light fabric. No bra, he noted with embarrassment and suddenly didn't know where to look. Was that a nipple piercing she was wearing? It had to be new. At least he had never noticed it on her before.
The night before, he had made a startling discovery. For the first time he had become painfully aware of the increasing physical decline of his wife, Maren. She had given birth to two children, and this had changed her body. In her face, wrinkles of wisdom were gathering. As he looked at her, he realized that Maren merciless reflected his own aging process.
He had never really had any experience with the opposite sex at a young age because of his faith. Today, as he was more lenient about the sexual misconduct of his parish, this depressed him.
Suddenly he noticed Tina smiling happily at him. Lost in thought, he had stared at the gentle hills of her shirt. When he realized this, he turned red and looked around him. The other young people, fortunately, had still closed their eyelids, busy with the experiment.
"You can open your eyes," he said sheepishly. And started to explain: "You probably never thought of pink elephants before. However, you will have had a hard time banishing them from your thoughts in the last few minutes. By my instructions, this absurd image has become established."
He looked into Tina's eyes. She smiled, her head mischievously tilted. How should he interpret her expression? Did she enjoy catching him? A mistake like that should never happen to him again.
It cost him some self-control not to look down on her body.
"A few years ago," he continued with his prepared text, "a boy came to me for counseling, for whom onanism had become a real problem."
As planned, he had the undivided attention of the group.
"The boy prayed that God would set him free. But every time he thought about masturbation in prayer, the need was there again. Over time, the thought of this took up more and more space in him."
He took a little pause for effect and let the words work on the young people. "You probably noticed during the experiment: The only chance to get away from the pink elephants is to think intensively about something completely different. Perhaps this experience will help you when your thoughts once again pull you in an unhealthy direction. So much for today."
An audible sigh went through the group. Chairs scraped; with short greetings, the young people said goodbye to Bernd. He looked out of the large promenade window into the small wood in front of the community center, the small, dark mixed woodland, which consistently opposed any garden architecture. While he was still staring outside, lost in thought, Tina hesitantly approached him.
"I have a problem too."
Bernd nodded insecurely. Unintentionally his look slipped down her body, short, bashful, fearful. Her azure blue eyes looked at him steadfastly.
"You see… That thing you said earlier about caressing yourself, I know it. I have no guilt. It's better than sleeping with a boy too soon. It's just… I keep thinking about the same man. He's married and doesn't know it. I imagine how… well, you know."
Bernd at least suspected what was coming and refrained from inquiring further.
"Until now, I believed the man wasn't interested in me. But I just noticed the way you were looking at me, and, well, I thought you should know."
"Know what?" he asked.
"That you're the man I think about all the time."