Thirty murders Ted Bundy confessed after his imprisonment in February 1978. He was accused of 36. In addition, he mentioned other murders to various people, but he did not give any details about them. In the famous Ted Bundy tapes, a series of cassette recordings that formed the basis for the documentary "Ted Bundy: self-portrait of a serial killer (Conversations with a Killer: The Ted Bundy Tapes""), he once even talked about having killed more than 100 women in 6 states.
All his victims were young, most of them between 18 and 24 years old, the majority of them students. Since Bundy spent a lot of time in university towns, it's not surprising that among the victims were several Sorority members.
George Hawkins – Kappa Alpha Theta at the University of Washington
One of Ted Bundy's first victims was George Hawkins. She studied broadcast journalism as a freshman at the University of Washington in Seattle. 157cm tall, long brown hair, brown eyes, a small birthmark on her neck. She was a member of Kappa Alpha Theta and was on her way back from her boyfriend's home to her sorority dorm when she met Bundy.
She was wearing a white, backless T-shirt that night, a flowered, long-sleeved blouse that she had knotted together at the front and navy blue bell-bottoms, as was customary in the 70s. Originally she had been to a Frat party, which she left with a friend. On the way back, however, she passed by her boyfriend Marvin's dormitory and jumped in while her friend walked the hundred meters to her own dorm alone.
Bundy was on crutches. Not because he had trouble walking, but because he wanted to lull his victim into a false sense of security. It was a scam on his part to put on a fake cast and ask his victims for help, for example by dropping his briefcase or a few books.
Georgeann was helpful too, which she paid with her life. Bundy asked her to help him carry his briefcase and lured her to his car, which was a few side streets away in a dark parking lot. He hit her so hard over the head with a crowbar he had left next to the car that she lost both earrings and a shoe. Finally, he dragged the unconscious student into his VW Beetle, whose passenger seat he had taken out, so that his victim, lying on the ground, could not be seen from other vehicles.
To prevent her from escaping, he handcuffed her. As he roared off with her, she regained consciousness, Bundy said shortly before his execution. She had told him about a Spanish exam she had to take the following day. He hit her on the head again and drove with her over the freeway east of Issaquah, where he finally strangled her on a lonely grassy area.
It is striking that Ted Bundy had obviously been hanging around in the so-called "Greek Row" waiting for a victim. In addition to the house of Kappa Alpha Theta, the Greek Row also included the dormitories of two other sororities, as well as three Frat houses – including that of Georgann's friend Marvin, a Beta Theta Pi. Bundy was fully equipped for a crime with the crutches, the fake plaster leg, and the crowbar deposited next to the car. Only a brightly lit alley less than 100 meters long separated the two buildings. The fact that Georgann Hawkins, of all people, was killed was probably a coincidence in this context.
Sources:
Criminal Misconduct, vom 11. Juni 2018
Kevin M. Sullivan: The Bundy Murders: A Comprehensive History
Deseret News, from 02 April 1989
The Chi Omega massacre
The massacre that Ted Bundy organized in the fraternity house of the Chi Omega Sisterhood at Florida State University in Tallahassee could have been prevented. For, in fact, Bundy had been incarcerated. However, he managed to escape. Twice, in fact. For 14 days he was at large after his escape from prison in Glenwood Springs, when he entered the Chi Omega residence.
In the early morning hours of January 15, 1978, Bundy entered the dormitory of the Chi Omega Sorority through a back door whose locking mechanism was defective. This is the incident that Louisa has to think of, as is told in the Gamma Xi Delta novella "Adrenalized "(english edition in preparation):
If it's not Arvid who comes to see me in this dorm, who is it? Is it reasonable to assume that it's a rapist who has gained access to the bedrooms? For him, a sorority dorm must be like an amusement park visit. Immediately the images shoot into my head, how the serial killer Ted Bundy invades the fraternity house of the Chi Omega Sorority one night and causes a real massacre.
I don't know why I watched that movie about Bundy. Now I curse myself for it. Because, of course, the scenes I haven't thought of in ages are back. Marc Harmon grabbing a log on a winter night, sneaking up the stairs, quietly opening a door. A sorority sister lies unsuspectingly in bed. And the massacre takes its course.
One of the girls he assaulted that night had been bitten so hard in the nipple that her areola was almost severed. However, most sources only mention a bite on the girl's buttocks, which was so deep that forensic experts were able to reconstruct a dental impression from it.
He then raped her with a bottle of hairspray. She and another student did not survive the brutal assault. Two other sisters, whom he had also severely abused, could be rescued badly injured.

from: Sandra Manther: Adrenalized
The two young women whom Ted Bundy had beaten unconscious with an oak log and then strangled were Lisa Levy and Margaret Bowman. Margaret Elisa Bowman was a 21-year-old junior student from St. Petersburg who studied art history at FSU. And Lisa Levy, 20, was in her first year as a fashion merchandiser.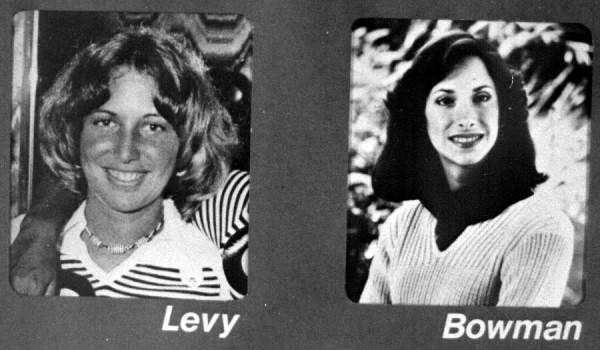 Immediately afterwards he entered the rooms of Kathy Kleiner and Karen Chandler, who he also mauled with the log and broke their jaws. Karen lost a few teeth in the attack. One of her fingers was smashed. However, both survived badly injured.
Since both women were surprised by Bundy in their sleep, they have no clear memories of the crime. Karen Chandler later reported in court that she went to bed around midnight. The next thing she remembered was being led to an ambulance. And also Kathy Kleiner only remembers that she went to bed around 11:30. And later, the excitement after the robbery. She had asked about her pastor and her friend David.
The only person who had seen the perpetrator Ted Bundy in the dormitory of the Chi Omega Sorority was Nita Jane Neary. When she came home at just before half past two in the morning, she heard Bundy coming down the stairs. With his cap pulled deep into his face, he was still holding in his hand the log of wood he had wrapped in a sock.
Four weeks later Ted Bundy was caught and sentenced to death in court. He was convicted of the bite marks on the victims, among other things by dental reports. His execution took place on January 24, 1989. He is still considered to be one of the most ruthless mass murderers in American history.
Sources:
Tallahassee Democrat, from 16 January 1978
The Evening Independent, from 10 July 1979