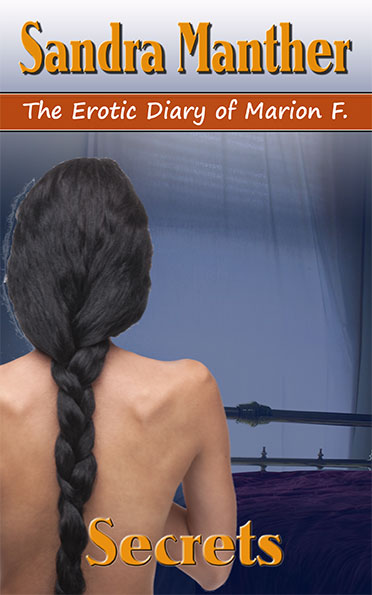 The second volume of the series "The erotic diary of Marion F." is now also available in English. While it was clear to Marion from the beginning that she would never see Bastian again, she now gets to know a man whom she at least wants to get to know better. While he still behaves like a real cavalier in the restaurant, he turns into a Christian Grey in bed. Nastily, he uses Marion's helplessness to get at her little secrets.
"Secrets" doesn't have much to do with "50 shades of Grey." Michael has a large attic apartment within sight of the Elbe River, but he is anything but rich. And while Christian is into all the S&M nonsense, Marion and Michael play bondage games more with a twinkle in their eyes. But that doesn't mean they won't go to extremes in bed.
Reading Sample
The girl in the larger-than-life, glass-framed photo made me fuzzy. Her long hair fell over her bare shoulders, her mouth was slightly open, her head lowered, but she fixed her gaze precisely on the viewer.
I was at a vernissage in a small art gallery in St. Pauli, Hamburg's red-light district. Festively dressed guests were standing around everywhere. Many of them held a champagne glass in their hand. A friend of mine was exhibiting her photos. Portraits, mostly. Close-ups of vulnerable-looking faces of young women, barely older than 18.
Nadine, the artist's name, was entertaining a few press people with anecdotes about making the photos. I joined in, listening in, even though I knew the stories long ago.
"So she was sitting completely awkwardly on the barstool in front of the screen. She wanted to be a model but had no experience. I mounted the camera on a tripod. Face zoomed in. The remote shutter release I hold in my hand. I ask her about her best orgasm. Her expression reflects fright but then softens. She opens her lips a little, looks at me ashamedly. I know at that moment that she would never talk about her sexual experience with me. But at the same time, the memory awakens in her, and her face softens. She gave me a look from below, shy, with a hint of a smile. And I shoot one picture after the other. Hardly let go of the button. I instinctively feel how vulnerable she is at this moment. A uniquely tender moment."
I let the image, whose intimacy also touched me, sink in.
A young man stepped up to my side, black suit, light blue shirt over pants. A little taller than me. His tanned hand held a cigarette that was not burning. He pointed to the picture. "She squeals during sex," he whispered to me.
I turned to face him. The first thing I noticed about him was the laugh lines around his mouth. His brown eyes were in constant motion. They examined the photo, then me. When our eyes met, they came to rest.
"You know this girl?" I asked.
"No, just this kind of girl. They act detached and cool. But they squeal during sex like they're on a roller coaster."
"You don't like teenagers?"
"I prefer women from twenty-five. They know what they like and can enjoy. Their excitement has died down."
"Thank you very much."
"Am I not right?" he asked.
"Yes, you are. We're past the first experiences, and we're not so surprised anymore about everything that happens during sex."
He held out his free hand to me. "Michael," he said.
"Marion," I replied.
"Have you had dinner yet?"
"Are you asking me out?"
"There's a good Mexican restaurant around the corner. Or, if you're not hungry, we could go to the cocktail bar upstairs at Riverside."
A little later, we were sitting among cacti and calabashes in a basement by the fish market, eating a Mexican platter consisting of chimichangas, quesadillas and flautas. All nicely arranged on a large platter. Frozen margaritas quickly made us feel familiar.