I once met a man at the Hamburg erotic fair. He had further developed the principle of vacuum mattresses, as they are used by the rescue service to fix injured people with severe fractures. These mattresses consist of an airtight cover filled with plastic beads. As soon as the air is sucked out of the mattress by a suction device, the negative pressure fixes the person on the bed. I was allowed to try it out once. It's a strange feeling to sink into the mattress and realize that I suddenly can't move anymore.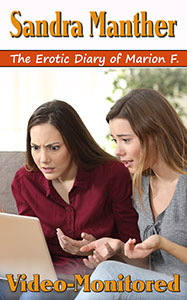 When I equipped Monika's basement with such a bed, I tried to find the manufacturer via the Internet. Either to find out more about how it works or to get a photo for the cover. But either he gave up his business or he sells these matrasses under a completely abstruse name that I didn't come up with. In any case, my search was unsuccessful. Only the idea remained and I decided to memorialize the bed with my new story, "Video-Monitored."
This episode also works as a standalone, so it can be read without reading the other volumes first. And again, at 45 manuscript pages and over 11,000 words, it clearly exceeds the length of a short story.
What it's all about?
Monica has installed a series of micro-cameras in the playroom in the basement of her house. Because by now, word has spread about the existence of her studio, which is stocked with S&M toys. So it's good to take a little emergency precaution.
More by chance, Marion finds out that her friend Sarah is using the basement with an acquaintance. And that Monica is watching from her living room – just to be on the safe side. And because Marion can't very well be alone right now, she sets off to watch a bit as well.
Later that evening, Marion is persuaded by her friends to invite her coach Marcel to the playroom. But is Marcel open to games of this kind? They experiment with the vacuum mattress, alligator clips and nipple pumps. While Marcel is immobilized, Marion takes him to his limits. Maybe even a little beyond.
Reading sample:
The smell of freshly made latte, usually a reliable mood booster, could hardly comfort me today. I sat at the kitchen counter and stared into space, the coffee bowl between my hands. Finally, I picked up the phone and called my best friend, Monica. Told her everything. She listened patiently, taking the flood of unfiltered emotions pouring out of me and only beginning to comfort me after I'd cried my fill.
"Perhaps there is a code of honor among jujutsu teachers not to sleep with one of his students. Just like the university professors," she said.
"Then why did he even ask me to stay after the photoshoot?" I hesitated and added, "Naked as I was."
"He knew how important this belt exam was to you, didn't he? Maybe he thought he was doing you a favor by actually practicing with you – instead of just screwing."
"He didn't even make an attempt."
"You said he does shoots like this frequently?"
"It's a hobby of his."
"If he usually only works with paid models, it's normal for him not to touch them. He's used to keeping his distance. Even if the person opposite is naked and adopts poses that are usually understood as an invitation."
"But I'm not a model."
"Last night you were." Monica changed the subject. "Speaking of 'posing for the camera.' Do you know who's here right now?"
"Daniel?"
I wouldn't put it past him. He still had a key to Monica's house and had shown up unannounced several times in the past.
Monica laughed. "No, Sarah. She asked me if she could use my playroom tonight."
"With Tobias?" I asked, irritated. In my eyes, her husband was a philistine, and I could hardly imagine that Sarah had gotten him to go with her to Monica's basement, which was filled with sex toys of all kinds.
"No, with Oliver, the guy we picked up in the Schanzenviertel. Do you remember how fascinated he was with Sarah? She wouldn't invite him to her house. Understandably. And so she just asked me."
"She's with Oliver in your playroom? I'd love to be a fly on the wall."
"No problem. Sarah asked me to keep an eye on things. After all, she barely knows Oliver."
Now I got it. "You don't have to stand outside the door and eavesdrop, do you?" I inquired.
"Much better. I have installed some micro-cameras in the basement. Just in case I bring someone along who is acting stranger than expected. I figured it couldn't hurt to have film on hand in case of emergency. Then I could always document to the police that I clearly said no when things got too rough."
"You're telling me you're sitting in the living room watching Sarah have sex?"
"They're both trying out my vacuum mattress right now. You know, that thing I saw at the erotic fair."
"Yeah, sure, I remember it. But you never showed me how it works."
"The technology is the same as a VTI mattress. The kind used by paramedics when patients need to be immobilized for transport. Just not with a hand pump, just because of the size, but with an electric pump."
"And Sarah agreed to be immobilized by Oliver?"
"Sarah lies stark naked and motionless on the bed and lets him rub her with herbal curd."
"Herb curd?"
"From my kitchen. Oliver came back up to ask. I was out of honey."
"Whipped cream would be more conventional."
"Yes, but he didn't feel like whipping any first. He wanted to get down quickly."
"I wonder if they'd mind if I came over."
"They're both busy with themselves. I don't think it would bother them."

A little later, I was sitting with Monica on the sofa; in front of us on the low table, the laptop, on which, from six camera perspectives, the playroom could be seen. Great software. With one mouse click, separate windows could be enlarged and zoomed in as desired. One of the cameras was pointed directly at the large iron bed, and another captured the bed from the side.

from: Sandra Manther: Video-Monitored