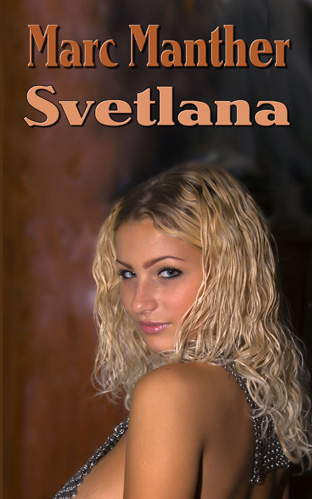 This story divides minds. Some praise the psychological development within the narrative that Svetlana makes over the years, from a self-cutting teenager to her S&M relationship to the attempt to free herself from her past. The others criticize that the episodes narrated are mostly disturbing rather than erotic. But judge for yourself.
This is what it's all about:
Svetlana tells the story of an obsession. She is still a teenager when her father dies. And death also takes away other loved ones from her. She freezes emotionally, takes refuge in self-injurious behavior.
Only Sven succeeds in bringing her out of her shell. As soon as she has her high school diploma in her pocket, she moves in with him. He introduces her to the world of BDSM. And makes her push her boundaries of shame further and further.
Reading sample:
Svetlana was fourteen when her father died, and she never forgave him for leaving without saying goodbye to her one last time. Every day after school, she had gone to the hospital to check on him and talk with him. While her friends felt less and less understood by her parents, her father became an empathetic listener and counselor in his final days. But on a hot early august afternoon, a nurse held her back and broke the news to her. Without saying a word, Svetlana turned around and left the hospital. She was firmly convinced that all it would have taken was a decision of her father's will to wait for her to die.
Her mother thought his death was a redemption anyway. And Svetlana knew her mother would only get angry if she tried to explain his betrayal to her. So she fell silent and shut her mother out of her life – as all teenagers do.
She met Ivor in a café on the Alster. She was seventeen by now, smoking Gitanes and drinking her espresso black. He, a Hanoverian scion of small merchants with a penchant for Russian literature, was in his mid-twenties, a dancer, and earned his living, like all dancers, by waiting tables. Hamburg's reputation as a musical city had brought him here, and there was not an audition at which he did not take part. His body was well-toned because when he wasn't working, he practiced to the sound of the musical CDs piled up in his CD rack. He had a support bar mounted on the wall; besides the stereo system with massive wooden boxes, a mattress was the only piece of furniture in the room. In the kitchen, there was at least a table and two wooden folding chairs.
Svetlana instantly fell in love with the young man. Soon she joined in his stretchings and learned to move to the beats coming from the speakers. She knew the names of the most important choreographers in the Hanseatic city and attended all the musicals with Ivor, from the big en-suite productions, for whose tickets they had to fork out over a hundred marks, to the small off-Broadway projects in sixty-chair theaters, which were often canceled after only a few weeks.
It was also Ivor who deflowered her while the "Rocky Horror Picture Show" blared from the speakers. That summer afternoon, he had stood before her in a different way than usual, smiling confidently, completely sweaty in his skin-tight catsuit, she, just back from school, in moonwashed blue jeans and a loose sweatshirt, her schoolbag still beside her. Later, she fondly remembered him slowly pulling that shirt over her head as he gently moved to the rhythm of the music. In his eyes shone that desire that made her feel so infinitely precious, taken seriously by this man who was so much older and more mature than she was. And she didn't think to protest as, inch by inch, he slid up her tight white tank top as well, while his hot, wet hands slid over her body, up over her waist, exposing her pointed, spreading breasts that she had never shown to a boy before. It seemed as if Ivor danced with her. Each of his touches, which caused tiny shivers in her, happened in time with the music. As if their love was not an overflowing emotion but a performance. Even as he penetrated her, she could predict in advance the next thrust, and the pain that jolted through her at first merged with the thump of the bass drum.